Discover the comprehensive guide to selecting the ideal mattress for your needs. Explore various mattress types and their unique features to find the perfect balance of comfort and support. From memory foam to innerspring, latex to hybrid, this guide provides valuable insights to help you make an informed decision and achieve a restful night's sleep.
Sleep is a crucial part of our lives. The quality of said sleep directly impacts our overall well-being and productivity. One of the components that affects sleep is the mattress we sleep on. We all have preferences and comforts so finding the perfect mattress makes all the difference.
There are many different options available in the current market, so selecting the right one can be difficult. There are many features and benefits to consider that will help you to make the decisions you need to transform your sleep experience.
What needs and preferences should I consider?
Due to custom needs, certain factors to be considered would be:
Comfort

: Comfort is of course subjective, it varies from person to person. As far as comfort goes, you should consider if you prefer a firm, medium, and soft mattress. You should also consider your body type, weight, and any other specific requirements you have.

Size

: Consider the size of your bedroom and then choose a mattress that allocates enough space you need. The options of mattresses available are Twin, Twin XL, Full/Double, Queen, King, or California King.

Support

: A good quality mattress will provide adequate support to align your spine and alleviate pressure points. You should look for a mattress that supports your body.

Motion isolation

: If you sleep with someone else, you may want to consider a mattress that minimizes motion transfer. This can help to reduce distractions during sleep.

Durability

: Durability is a very important factor to consider because a mattress is a long-term investment. It is important to do your research and look into reviews before purchasing.

Allergies

: Allergies can provide a great amount of discomfort and disturbance. If you have allergies or sensitivities, look into a hypoallergenic mattress so you can avoid dust mites and mold.

Budget

: Mattresses are an expensive investment. Make sure to consider your budget and keep that in mind when searching. Try to find a balance of quality and affordability.

Temperature regulation

: If you have specific temperature preferences, consider a mattress with good airflow and temperature-regulating properties.

Trial period and warranty

: Make sure to consider the manufacturer's trial period and warranty. A trial period allows you to test the mattress and a warranty helps to protect against defects.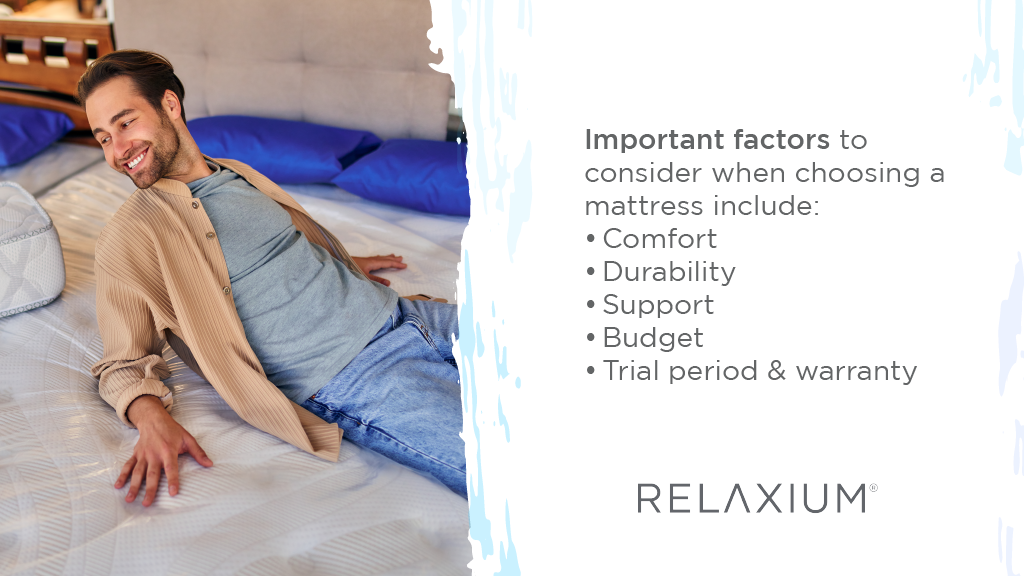 Different types of mattresses
There are many different mattresses to choose from. Some of the most notable that we are going to discuss are:
Innerspring mattresses

Memory foam mattresses

Latex mattresses

Adjustable beds
Innerspring mattresses
Innerspring mattresses are a great choice of mattress, especially because they are known for their coil support system. The different types of coils that you can find in an innerspring mattress include:
Bonnell coils

Offset coils

Pocketed coils
With its breathability, and ability to circulate air, you can be rest assured that heat retention will be controlled and support is prioritized.
Memory foam mattresses
A widely popular option, memory foam mattresses are also frequently used due to its ability to contour the body, relieving pressure points.
Some of the notable components of a memory foam mattress are:
Absorbs and reduces noise

Cooling technology

Density
Memory foam mattresses are made of viscoelastic foam. This helps to evenly distribute body weight which then reduces pressure on the joints, promoting proper spinal alignment. Different densities and thickness are available when looking at memory foam mattresses.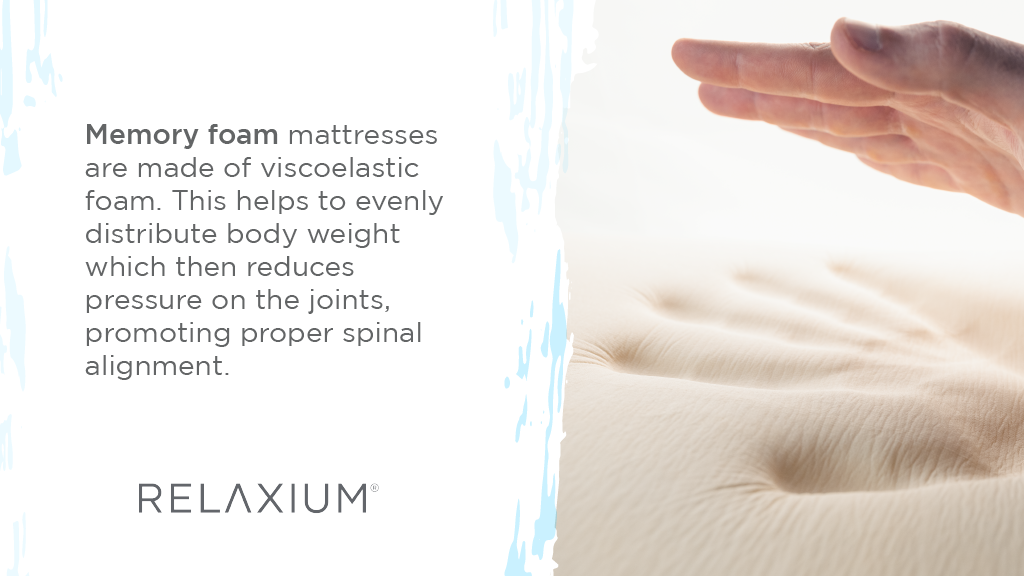 Latex mattresses
Another great option for mattresses are latex mattresses. Latex mattresses are very well known for their support and durability. These types of mattresses are made from rubber trees or synthetic latex.
They conform to the body which helps to provide pressure relief. They respond and adapt quickly to body movements. Latex mattresses are also hypoallergenic and are resistant to dust mites and mold, so if you suffer from allergies this is a great option. They also offer adequate breathability and promote airflow and temperature regulation.
Adjustable mattresses
Adjustable mattresses are great for those who need customizable support and comfort. Due to its ability to be adjusted in different positions, you can elevate your head and even your legs.
Adjustable beds can even be paired with memory foam or latex mattresses, making their flexibility and contouring capabilities even more enhanced. They are a great option for those dealing with health conditions as well, specifically those who suffer from:
Snoring

Acid reflux

Circulation problems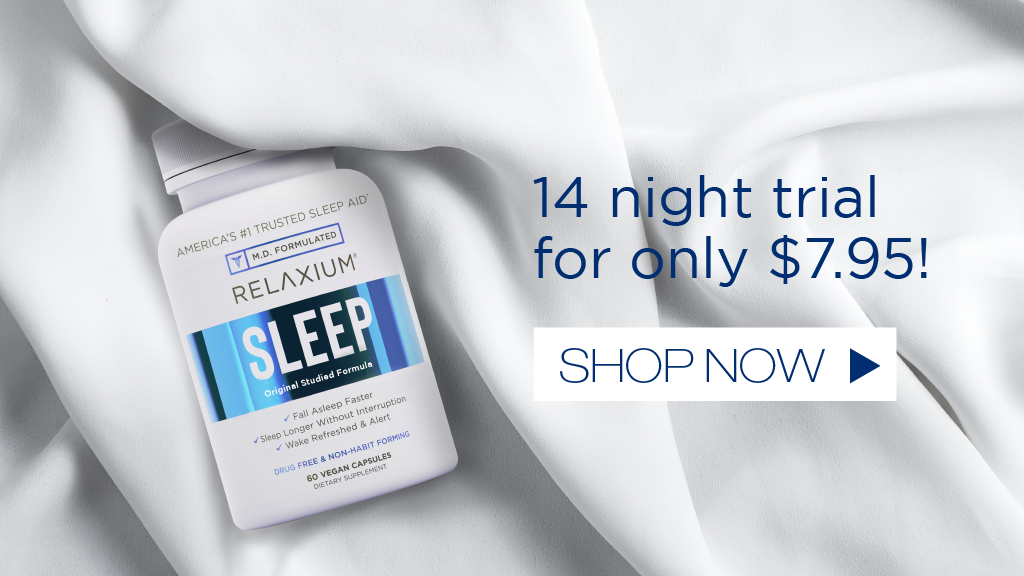 We hope this has given you more insight to pick the best mattress for you
A good mattress truly does make all the difference between a good night's sleep and an awful one. It is important to do your research before making this kind of investment.
When you do find your perfect mattress, consider a sleep supplement to add onto your sleep quality. Consider Relaxium Sleep. Relaxium Sleep is a natural and effective supplement designed to help you fall asleep faster, stay asleep longer, and have you waking up feeling refreshed and alert.
With these combined together, the possibility of restful sleep increases substantially. We wish you the best of luck!
Relaxium offers a number of safe and effective supplements that aid in the categories of sleep, calm, focus, and immunity. Created by Clinical Neurologist, Dr. Eric Ciliberti, TryRelaxium.com offers a 30-day Money Back Guarantee trial of Relaxium Sleep to allow our users to truly experience its effects. To try the product today visit our website for more information.
To restful and healthy days ahead.
The Relaxium Team
*These statements have not been evaluated by the Food & Drug Administration. This product is not intended to diagnose, treat, cure, or prevent any disease.
Sources:
https://www.duroflexworld.com/blogs/news/heres-why-a-good-mattress-is-important-for-a-good-sleep#:~:text=Relieves%20Body%20Aches%20and%20Pain,long%20when%20properly%20cared%20for.
https://mattresswarehouse.com/blogs/sleep-news-and-tips/what-is-an-innerspring-mattress
https://www.mattressonline.co.uk/advice/what-is-memory-foam-mattress
https://www.mattressonline.co.uk/advice/what-is-latex-mattress